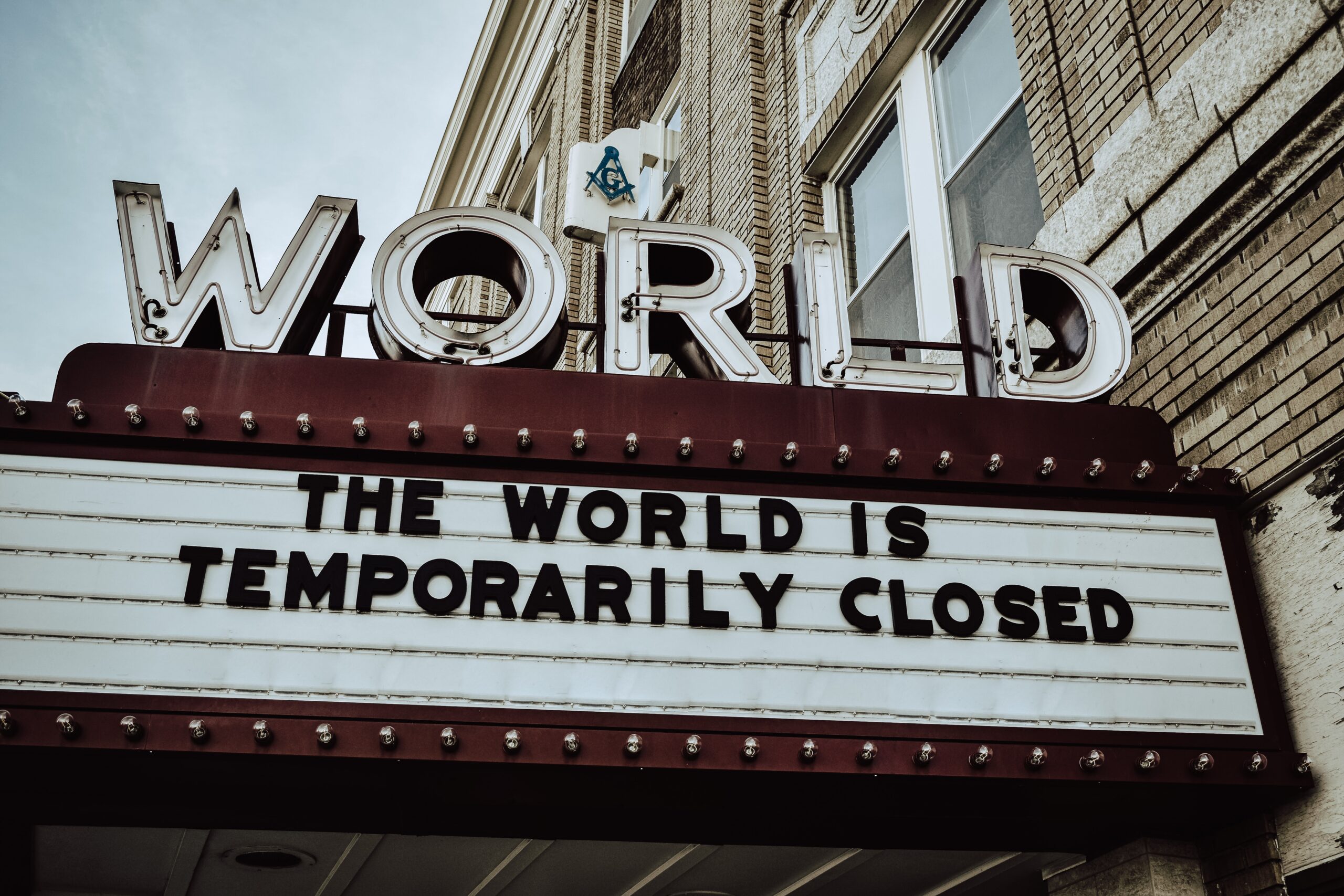 In just a few short weeks, we've gone from a robust economic engine to sputtering along on a few cylinders.
By now, all that work strategic planning work you did at the end of last year should show up. If no planning was done, then it's all reactionary decisions.
Frankly, it's hard to predict something like this virus and how it's affecting our world. Only the military or those excellent company's who went deep enough into their planning process to address this kind of scenario reap any rewards.
Did You Plan For This Type Of Event?
As in any downturn, there are segments of the market doing well. Unfortunately, my sense is a broader sector of businesses is either feeling the pain or will. By now, as a business owner, you know you need to safeguard your facility. Sanitizing is essential, and several times a day. Educating your employees and customers and making sure that all the details are tended to is the new reality.
Georganne Bender and Rich Kizer were colleagues of mine that helped many of our clients. I thought they offered some great advice in their recent article on what to do if your retail store is preparing to close due to the virus. Retail Shut Down Checklist: What to Do If Your Store is Closed Due to COVID-19.
Survival Of The Fittest: Retention Of Human Capital
As an optimist and a realist, I believe we will get through this, and soon our engines will be running again. Certainly, there will be several challenges, but none bigger than retaining your human capital.
How can we retain the skilled leaders we grew during those good years?
How can we maintain the level of excellence and customer service we aspired to just a few short months ago?
What will my business look like after this is done?
Adult Psychology In Crisis
At some time in your life, you've had an epiphany. You were going along with your thoughts or what you believed in, then something happened, and you were made aware. Within moments, your mind flooded with thoughts, and the new realizations start to occur. Many times it is an illuminating discovery or disclosure from someone to trigger this new paradigm of thinking.
Based on your level of education, your range of self-talk, the various influences in your life, and an assorted of other factors, how quick you see what others see aren't always at the same rate of comprehension. Mostly, some get it quickly, some it takes a while, and others never get it. Whatever it is.
These new thoughts drive your behaviors and decision making. Possibly you react immediately without much forethought only to find later on that the decisions you made were a mistake. Or fear takes over and immobilizes your creative decision making process, and nothing gets done. Regardless of the actions you take, the new awareness can be both invigorating and daunting. You may not like it, but you have to make critical and strategic decisions in a constantly changing environment.
Business Strategy Through The Four Phases Of The Virus
We are all trying to assimilate what this virus means to us. The reality for a business owner and their leaders is pretty tough right now. If employees witness leaders who are scrambling and not being sure of themselves, that tends to make them wonder and creates an epiphany. It is important at this time to keep them informed through calm, rational discussions.
In an article from Stephen Wunker on the CMO Network titled, "Business Strategy Through Four Phases Of The Coronavirus Crisis," he shows a very clear depiction of the economic phases. I thought it was a great tool for leaders to use in charting their pathways through these uncertain times. When we can "see" what's coming, that is an important step in figuring out how to conduct business.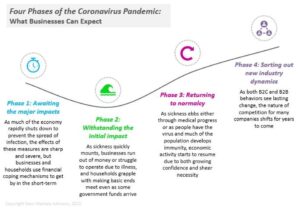 Scenario Discussions to Manage the Epiphany's
There are as many strategic planning methods as there are birds in the sky. I've used several with clients over the years with great results. But virus planning? Not sure that's been on the radar screen. Right now, one of the important steps to take is to figure out ways to retain your leaders so when this is over you can jumpstart the business again.
One of the simplest things to do is to conduct scenario based discussions. Through this process, you help your people go through their epiphany about life, their job, family and more. Hopefully, this allows rationale thinking to take over and better decisions can be made.
The goal is to talk about the "what if's" in life and business. With social distancing guidelines in mind, these discussions could be in either a small group or one to one or through Zoom, FaceTime or other video conferencing software. Social distancing isn't a joke. Take it seriously.
By openly talking about the "what if", you expand each person's paradigm of what could happen. This allows the individual to go through the mental gymnastics to get their head around the situation and reduce the anxiety that surrounds this type of life changing epiphany. Once this occurs, then openly talking about solutions and getting the creative juices flowing again normally occurs.
This isn't normal times, and it requires out of the box thinking to retain your leaders. A key is to get input from the stakeholders who are responsible for carrying out the plans. If you get input, there is normally more buy-in and keeping these good people bought into your mission. Other people's remarks will stimulate your ideas in a short-chain reaction of ideas. No one's comments should be laughed at or frowned upon. The craziest idea may be your best one.
My hope is that my words and thoughts help you along on this wild journey. Wash your hands! Let's flatten the curve.